SAMRANG GEWOG ADMINISTRATION
GEWOG PROFILE:
BACKGROUND;
Samrang is the smallest gewog among eleven gewogs of Samdrup Jongkhar district embracing an area of 51.25 sq. km with only 52 households currently settled. The Gewog shares the boundary with Martshalla Gewog to the north, Pemathang Gewog to the west and Langchenphu Gewog under Jomotshangkha Drungkhag in the east. Samrang falls under the jurisdiction of Samdrup Choling Drungkhag.
The gewog is about 24.15 km from Drungkhag Administration which almost takes an hour by vehicle to reach.
Samrang had 264 house-holds in the gewog prior to 1990s. Most of the residents in the gewog were originally from Gomtu, Samtse District, who were given land as a substitute of their land at Gomtu taken over by the cement factory. A few landless families were also resettled at Samrang under the Kidu program, while few exchanged with the government reserved land as their lands were situated at far flung areas with a few settlements in their areas.
The houses are sparsely located with a few minute walking distances which are provided with electricity to every household. Agriculture production is their main source of income. The household sustain their livelihood by cultivation of paddy, maize, vegetables and rearing livestock. Since there is less population, there is shortfall of manpower to work in the field. However, despite its solitary location the farmers try to reach the produce to the nearby market being content with little of its investment return. Ginger is their main source of income.
As the gewog is located amidst dense forest, it is highly endangered by the wild creatures, mostly by elephants which hamper their cultivated land extremely. Not only have the elephants impacted their produce but also have caused countable deaths of inhabitants while intending to drive away and protecting the crops. On this, the people are given trainings and tips on to defend themselves and also imparted knowledge on the nature of the wild. The gewog is recognized as a poverty stricken gewog with 57% poverty rate where with the help of financial support from GEF-SGP, UNDP under the project 'alleviation of rural poverty through mitigation of human wild-life conflict' has successfully installed 5km solar fencing around the settlement at the gewog. Those tiring and sleepless nights have gradually transformed to tales of today and a heavenly bliss has come to them for they could now dream with peace.  The farmers no more have to guide their farms with those sleep weighed eyes. The farmers hence anticipate proportionate production of their cultivation to invested input.
AREA, LOCATION AND GEWOG AT A GLANCE
Area                                       :            51.25sq.Km
Location                                 :            24.15 Km up from Samdrup Choling Drungkhag                :
Dry Land (Cultivated )           :           106.22Acre
Dry Land (Fallow)                  :           38.549Acre
Wet Land (Cultivated)            :           59.33Acre
Wet Land (Fallow)                 :           6.568 Acre
Orchard                                   :           12.25Acre
Kitchen Garden                       :           0.25 Acre
Altitude                                   :           285-1200m above sea level
Weather Pattern                      :           Hot and wet summer, cool and dry winter                       
Local Dialects                         :           Lhotshampa
Main Income Crops                :           Ginger and Areca nuts
Forest coverage                      :           92%
Health                                      :          1 Sub-post
Education                                :          1 ECCD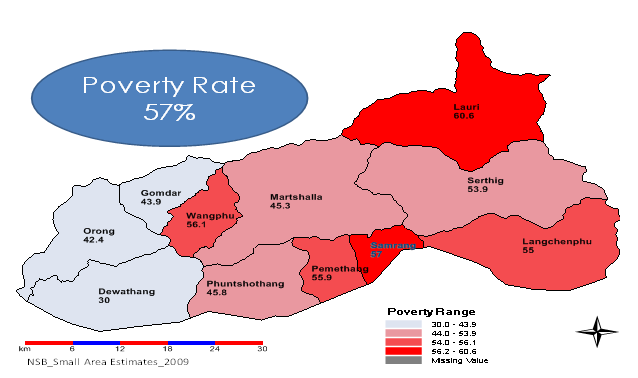 GT Members
Sl.no

Designation

 

Name

Contact No.

1

Gup

Jigme Singay Drukpa

17686738

2

Mangmi

Arjun Rai

17451116

3

Tshogpa (Ngangtshothang Tead)

Tulshi Devi Rai

17983138

4

Tshogpa (Ngangtshothang Mead)

Sova Rai

 77657840

5

Tshogpa (Damsagang Maed)

Tshering Lhamo

17734825

6

Tshogpa (Tshoduen)

Devi Maya Sharma

17849263
Population and Household information
Chiwog

Households

Population

Gungtongs

Male

Female

Total

Ngangtshothang Toed

22

162

165

327

0

Ngangtshothang Maed

13

53

47

100

0

Damsagang Toed

3

17

12

29

0

Damsagang Maed

10

22

24

46

0

Tshoduen

4

11

16

27

0

TOTAL

 

52

265

264

529

0
Total Number of Village: 5, Total Number of Chiwog: 5, Total De-facto Population: 375, Total De-facto Household: 103 (Year-2022)
Civil Servants/Sector In-charges (2022)
Sl. No

 

Designation

Name

Contact No#

Qualification

1

Gewog Administrative Officer

Leki Phuntsho

17356998

Degree

2

Health Assistant

Norbu Jamtsho

17631011

Certificate

3

Caretaker

Suk Raj Rai

17302798

PS (3)

4

ECCD Facilitator

Karma Choeyang Dema

17309241

HSS (12)
Road Connection      : 24.15 Km to Samdrup Choling Drungkhag from Gewog Center
 

Road Name

Road Type

(Farm road/Gewog Center road/Feeder road etc.)

Road Length (KM)

Year of Construction

Samrang–GC

Gewog Center Road

 0.3 Km

 1985

Ngangtshothang Toed Road

Farm Road

   3 Km

 1985

Ngangtshothang Maed

Farm Road

 1.15 Km

 2016 and 2020

Ngangtshothang Toed

Farm Road

0.31 Mm

2020

Damsagang Toed

Farm road

0.18 Km

2020

Damsagang Maed

Farm Road

0.25 Km

2021

 
 
 
 
CULTURE:
Local festival/Tshechu                             Location                      Lunar Calendar/Date
Diwali                                            Samrang                                Once in a year

Dasain                                            Samrang                                Once in a year
Religious Monuments and Cultural heritages:
Total number of Dratshang/ Lhakhangs: Nil
Govt. owned Dratshang/ Lhakhang: Nil

Community Lhakhang: Nil

Private Lhakhang: Nil
Number of Chortens: Nil

Number of pilgrimage sites (neys): Nil

Other (specify): 1 Mandir
HEALTH:
Health Services
Number of Hospitals: Nil

Number of BHU: 1 (Sub-post)

Number of Doctors: Nil

Number of Health Assistant: 1

Number of health workers: 1

RWSS Coverage: 99.5%

Immunization Coverage: 100%
Directory of health staff in the gewog
| | | | | | |
| --- | --- | --- | --- | --- | --- |
| Sl No. | Name of Hospital/ BHU | Location | Total staff | Name of In-charge (s) | Contact No. |
| 1 | Sub-Post | Samrang | 2 | Norbu Jamtsho | 17631011 |
Total No. of ECCD: 1

Samrang

No. of  ECCD Students:

Male

Female

    8

             12
RENEWABLE NATURAL RESOURCE (RNR):
AGRICULTURE:
Land

Sl. No.

Details

Area (Acre)

Types of crop grown

1

Chhuzhing (Wetland)

65.898

Paddy

2

Kamzhing (Dryland)

144.769

Maize, Ginger

3

Orchard

12.25

Areca nut, orange, litchi

4

Kitchen Garden

0.25

Chilli, Onion, Cabbage, Bringer, etc

5

Number of Farm Road

6

 

6

Length of Farm Road (KM)

5.19

 

7

No. of Irrigation Schemes

4

 

8

Total Length of Irrigation Scheme (Km)

10.2

 

9

No. of Solar Fencing

2

 

10

Total length of Solar Fencing (KM)

7.5

 
| | | | |
| --- | --- | --- | --- |
| Sl. No. | Livestock Facilities | Numbers | Remarks |
| 1 | Piggery farm | 1 |   |
| 2 | Poultry Backyard Farm | 2 |   |
| 3 | Fishery Farm | 6 |   |
FORESTRY:
| | | | |
| --- | --- | --- | --- |
| Sl. No. | Details | Number | Remarks |
| 1 | No. of Community Forest | 1 | 204.7 Acre with 27 members |
| 2 | No. of Private Forest | Nil |   |
| 3 | No. of Water Protection Sites | 3 |   |
| 4 | Area of Water Source Protection Sites (Acre) | 1 |   |
TRADE & INDUSTRY:
Sl. No.

Name of Licence

Licence No.

Name of Licence Holder

Mobile

Status

Shop, Restaurant & Bar

1

Yeshimo Tshongkhang

4009884

Yeshimo

  17948499

Operational

2

Pradhan Shop

4003798

Madpar Singh Pradhan

  17880785

Operational

3

Pelden Tshongkhang

4004385

Prem Maya Sunwar

  17526697

Operational

4

PD Tshongkhang

4009226

Pema Dema

  17628178

 Operational

5

TD Restaurant Cum Bar & General Shop

4008811

Karma Wangchuk

  17248039

Operational

1

RB Tshongkhang

4004384

Tara Bir Bista

  17887005

Operational

2

Wangzom General Shop

4009800

Wangzom

  77416669

Operational
COMMUNITY SERVICES:
Number of community centres (CCs): 1

Number of virtual Zomdu facility: 1

Other services
Bhutan Post: Nil

Banking: 1 (CC)

Insurance : Nil

Insurance: Nil

Fuel depot: Closed
ELECTRICITY:
| | | | |
| --- | --- | --- | --- |
| Sl. No. | Particulars | Numbers | Remarks |
|  1 | Households  electrified | 52 | No household without Electricity |
|  2 | Electricity Coverage | 100% |   |
| 3 | Tele Communication Coverage | 100% |   |
OTHER INSTITUTIONS:
| | | | |
| --- | --- | --- | --- |
| Sl. No. | Institutions | Location | KM from Gewog Office/Remarks |
| 1 | Bhutan Livestock Development Corporation Limited (OPD Department) | Samrang | 0.6 KM, 41 household with 111 population |
Goshey Nyenshey in Gewog:
| | | | |
| --- | --- | --- | --- |
| Sl. No. | Name | Village | Contact No. |
| 1 | Tara Bir Bista (Ex-Gup, 2016-2021), (Ex-Mangmi, 2011-2016) | Damsagang Toed | 17887005 |
| 2 | Panjika Gurung (Ex-Mangmi, 2016-2021) | Ngangtshothang Toed | 17702523 |
| 3 | Kishore Rai (Ex-Tshogpa, 2016-2021) | Ngangtshothang Maed | 17947324 |
| 4 | Moniraj Limbu (Ex-Tshogpa 2016-2021) | Ngangtshothang Toed | 17444726 |
| 5 | Mon Bdr. Gurung (Ex- Gup, 2011-2016) | Ngangtshothang Toed | 17130714 |
| 6 | Talak Bdr. Bista (Ex-Gup, 1990s) | Ngangtshothang Toed | 17737147 |
| 7 | Gomphey Rai (Ex-Mangmi) | Ngangtshothang Toed | 17603208 |
| 8 | Dhan Bdr. Rai (Ex-Tshogpa) | Damsagang Maed | 17404398 |
| 9 | Ashal Bdr. Subba (Ex-Chupon) | Ngangtshothang Toed | 17464681 |
List of Ex-Armed Forces in Gewog:
Sl No

Name

Organization/Post

Village

Remarks

 

1

Seriprashad Bhattari

RBA/Drimpon Gom

Ngangtshothang Toed

 

2

Ganga Singh Chhetri

RBA/Pelpoen

Damsagang Toed

 

3

Dil Bdr. Pradhan

RBA/Drimpon Gom

Tshoduen

 

4

Nandi Kishor Sgarma

RBA/Drimpon

Tshoduen

 

5

Bal Bdr. Darjee

RBA/Gopa

Tshoduen

 

6

Ram Chandra Pradhan

RBP/Pelpoen

Tshoduen